Fresh from her tenure on Series 14 of Strictly Come Dancing, Anastacia has announced that her Ultimate Collection tour is returning for 2017, with 14 dates announced for next May and June. In addition to the exciting tour news, Anastacia is also gearing up to release her first live album, A 4 App.
MORE: View Anastacia's complete UK chart history
A 4 App features live recordings selected by her fans performed during the first leg of the Ultimate Collection tour. For that stint, Anastacia created an app that let the audience vote for album tracks, b-sides and rarities to hear live, most tracks being ones that Anastacia had never sang live ever before. These refreshed tracks will appear on A 4 App, released on December 16. 
We sat down with Anastacia to discuss her innovative new album, being blacklisted on US radio, and her feelings about the next President of the United States, Donald Trump.
Hey Anastacia! You've recently announced a second leg of your Ultimate Collection tour for 2017. You really feel at home in the UK don't you?
"Being an American and being that my career has been very successful in the EU, being here [London], I felt so comfortable in a country where language wasn't a barrier. It reminded me of New York, Chicago - very metropolitan. Then the humour of the UK is something I love and adore. I wanted to gain the diplomacy and demureness of your culture, I don't know if... it has definitely not worked! But I'm hoping 10 years down the line, I know what forks to use!"
You love the UK, but what's happening in the US? Would you consider moving here after what happened in the Presidential Election?
"It is not a movement thing for me. I voted for Hillary so I will leave it at that. I don't have anymore to say about it. I have a President-elect and I don't go for the negative, I go for the reality. The reality is that's where we are." 
You've generally had more success in the UK and throughout Europe in your career. Why do you think that is? 
"Oh, 100% I have. I don't know the exact reason but I can give you an idea of what may have happened. My first record was scheduled to be delivered in America, radio and everything. I was with Sony Worldwide but as I was an American signed artist, so they were starting with America. Either something happened with radio promotions, somebody made somebody mad; something happened with my release. I don't know anything about it and I can't understand it. Simultaneously my name was a part of it so I think I was blacklisted from radio."
The tour features all of your biggest hits. Will it also include some brand new material?
"This is where my app comes in! When people have liked the hits, they have usually also liked material that came with it on a certain album. That's why I wanted to give the fans a choice, if you could pick a song that was either a b-side or just on the record that you could dream of me singing live, what would it be? I picked about 13 songs that I felt were most asked.
"I would say that probably only three of them had I ever sung on stage. In my life. Outside a recording studio. And I can't even remember when that was! A lot of those tracks, I wrote them, demoed them and then that was that. The tour will feel like new songs to those who are coming."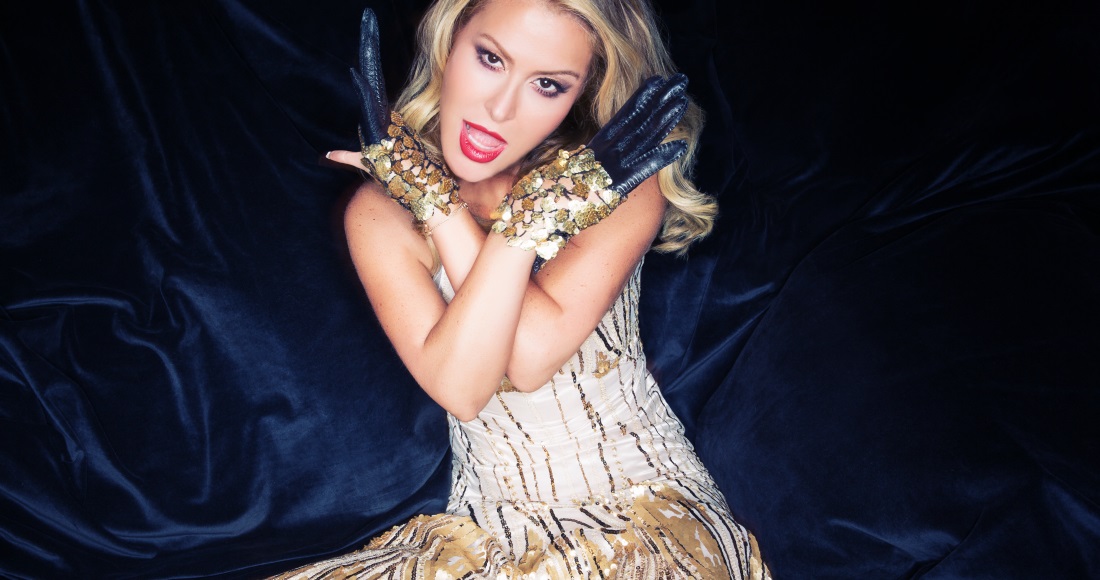 You're very kind to your fans, Anastacia. 
"But that's what it should be about! This is what it has always been like for me. From the beginning of time, what have I called my fans? Fanily. 17 years in, that is me to the core. Other people call them like a combination of their name... like the Beyhive or whatever, which is cool but for me, I can't believe all of these people that don't know who I am treat me as though I am a part of their family. They love me when I do wrong things, when I'm sick. They are there for me and they know me... but how do they know me? [laughs] What you don't realise writing these songs is that if fans connect with those songs, they are connecting with you."  
Christmas is fast-approaching; would you ever consider doing an album of festive songs?
"I am so excited about that! I think there is so much pressure when doing something like that. I did a covers album and loved it, and it was a super cool concept - I loved like I was going back to a musical school that you could have never imagined you would go to.
"I wouldn't rule a Christmas album out. I love Christmas and wouldn't rule out a song, on an album, that's put out at Christmas! [laughs] A whole album seems like a lot of work, and then you could only sing it at Christmas. But if I did one or two songs on my next album which is coming out at Christmas, that could happen. Maybe a little Santastacia needs to come out."
You have 14 Top 40 hits in the UK, but that Number 1 single has eluded you so far, although you do have a Number 1 album. Does that chase for a Number 1 ever spur you on?
"Thank you for reminding me! This interview is over! [laughs] It is interesting. I don't look at the 1s, 2s and 3s... I look at paying my rent! Being able to still have a career after 20 years; those are the things I focus on. If a Number 1 can happen in life somewhere down the line, that's cool, but that's never been my goal. It doesn't spur me on. I was very lucky to have the 'out of the box' success that only happens to a few people in their lives and I cherish that."
MORE: The huge pop acts who never scored a Number 1 single, including Anastacia, Janet Jackson, Bon Jovi
You were brilliant on Strictly Come Dancing, though it had its ups and downs for you. What is the greatest thing you take away from the show?
"Raising awareness for breast cancer. That is 100% why I did it. I was totally way more mortified that I was out because I couldn't continue being their advocate. Going through the surgery that I did, and then getting an injury literally in the exact area and then still being on the show, I felt I was letting everyone know that I'm with you.
"I was sad that I was gone because I wanted to continue [to raise awareness] but learning a dance in three days isn't necessarily as easy as it looks. People were saying that I was going to be so good, and I was like, you guys don't get it. I'm a white girl with rhythm, but now I've started to learn these dances, I'm just a white girl!"
Anastacia's new album A 4 App is released on December 16th. Tickets for her Ultimate Collection 2017 tour dates are on sale now.