Say what you want about early 00s pop diva Anastacia, but the title of her upcoming tour - 2022's I'm Outta Lockdown, announced today for dates across the UK and Europe - is superb.
The title, of course, riffs off Anastacia's debut single and one of her biggest hits in the UK, and it was apparently thought up by Anastacia herself after she went a little loopy in the first lockdown.
"It was a joke," she tells OfficialCharts.com, "[In lockdown] I was out of Dove soap. And I started singing I'm Outta Dooooove and I thought when this is over, I could call my tour I'm Outta Lockdown.
"I might need to change a couple of the other songs too," she says on the theme of the tour, "How about Left Inside Alone?" 
The new tour comes a little late to celebrate the 20th anniversary of her debut album Not That Kind (a Number 2 hit on the Official Albums Chart) thanks to the global pandemic, but the 22nd anniversary of anything in the music industry is something to be celebrated.
"At this point, you're very grateful to have more than one [anniversary]," Anastacia tells us. "Even going into double digits, it's a beautiful thing. And since lockdown, music matters more and live music matters even more, because it was taken away."
For British pop fans, Anastacia was a chart staple during the first few years of the brand new millennium, and songs like I'm Outta Love, One Day In Your Life and Left Outside Alone have not only become radio staples, but the kind of songs that are played at parties and at weddings - the kind of pop hits that seem fundamentally British, even if the woman singing them isn't. 
"[Those songs and their effect] was not on purpose," she says on her legacy. "I had a lot of happy accidents. I didn't know half the way what a hit song was, if it was a hit song, if people would even enjoy it."
It's safe to say they did. Anastacia has secured three UK Top 10 singles in her time, as well as six Top 10 albums. And going out on the road again, some of the old classics might be getting a new shine to them in 2022.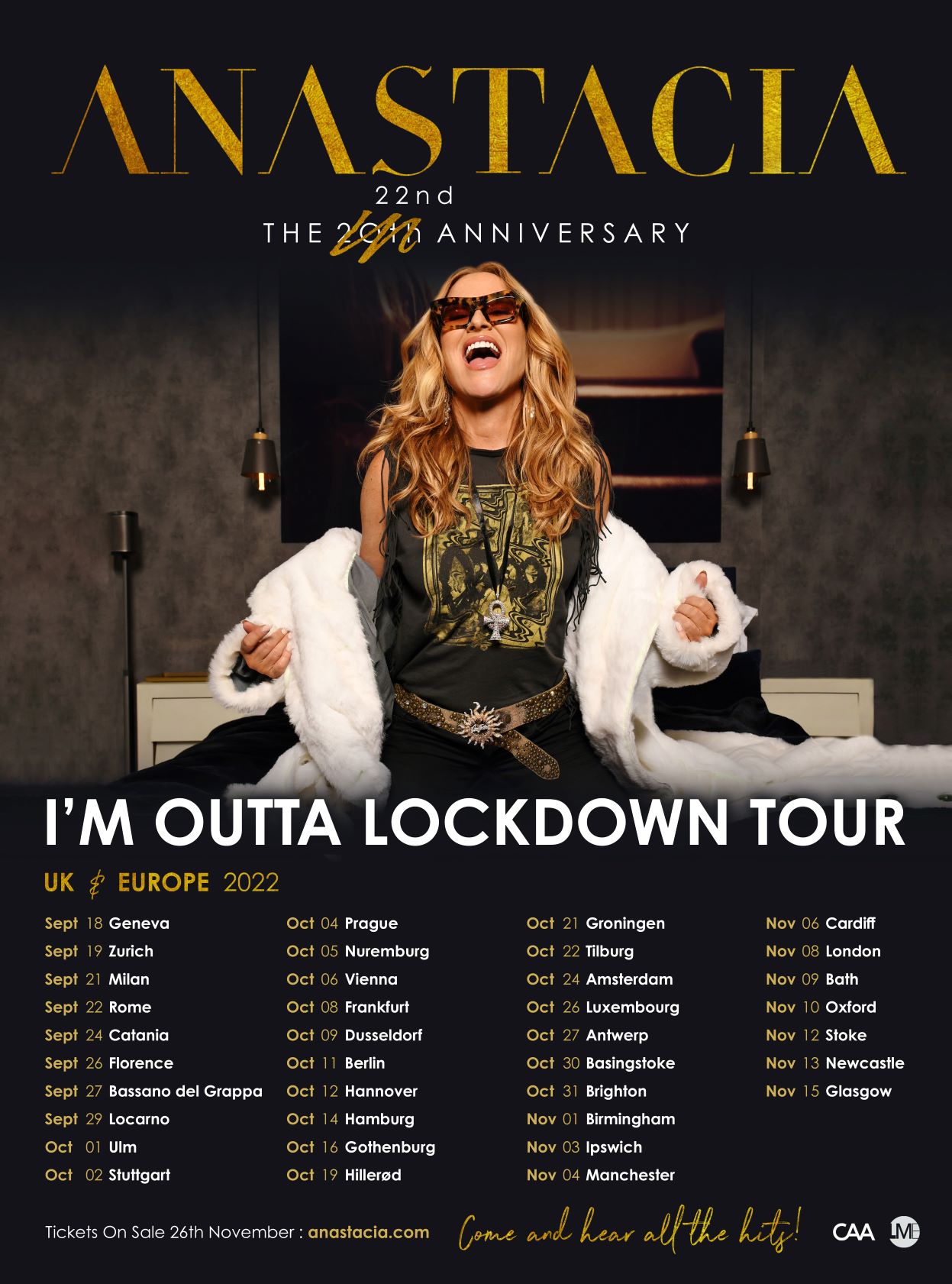 "[My relationship to the songs] hasn't changed," she tells us, "but I don't know whether to throw some interesting things into the songs, because they do have two decades behind them."
Don't worry, though, the production of I'm Outta Love will remain untouched (to prove this, Anastacia performs the song for us via Zoom) as it is "a one hit wonder with one lane."
Plus, there will be new music on the way next year too, and it will definitely be uptempo and in the vein of her old hits.
"Oh for sure," Anastacia laughs. "It's going to be what you want. It's my recipe! I might as well feed my people!"
Anastacia's I'm Outta Lockdown November 2022 tour dates
01 NOV – UK, Birmingham Symphony Hall
03 NOV – UK, Ipswich Regent Theatre
04 NOV – UK, Manchester Bridgewater Hall
06 NOV – UK, Cardiff St David's Hall
08 NOV – UK, London Eventim Apollo
09 NOV – UK, Bath Forum
10 NOV – UK, Oxford New Theatre
12 NOV – UK, Stoke Victoria Hall
13 NOV – UK, Newcastle O2 City Hall
15 NOV – UK, Glasgow Royal Concert Hall
Article Image: Jack Alexander