After 13 years in the game, Baltimore pop-punkers All Time Low are almost certain to earn their highest-charting album in the UK this week with their sixth studio record Future Hearts. 
With the set currently bound for Number 1, we caught up with singer Alex Gaskarth to talk about their big UK breakthrough, raunchy fan fiction and what the future holds for the band.
Hi Alex! Congratulations on the huge success of Future Hearts. It's on course to be your biggest UK album yet, which must feel pretty good?
"It really does! I'm just glad people like the songs. I definitely felt like our fans were ready for another album, but I didn't know it was going to be like this. There's so much nervous anticipation our end that we haven't even planned a celebration yet."
All Time Low have had a slow but steady build in the UK (Future Hearts is their sixth record); was cracking the UK market something you were particularly set on doing? 
"We've had a very slow build, but we started very grassroots which hopefully means there isn't the chance of us being a flash in the pan. I prefer it that way and it's what this band is all about, so I'm really happy with the way it's all happened.
"The UK has really embraced our band in a big way, and it's now become one of our strongest markets. I don't really have an explanation for it. People have just really got behind us and every time we come back to the UK, it feels like we've grown."
Future Hearts has the big, bold classic All Time Low sound, but there are also some softer, folkier moments on it; is this a sign of you growing up?
"I hesitate to say 'mature' because there's a weird connotation with that. I think it's just that we were open to trying some new things on this record. That said, we have a box that we feel All Time Low belongs in. It's a pretty big box though, which means we can push ourselves within the idea of what All Time Low is. The last record was very straightforward and had one dynamic. On this new one, we've done a bit more exploring. For example on Missing You, most people haven't heard us play the mandolin before. It was fun to try something new."
There are a lot of new bands coming through with a similar sound to yours, as well as groups like One Direction veering into the genre…
"I know what you mean. We've never really stopped doing what we do and while we've tried new things and moved around a bit, we've been up to this stuff for years. We know what All Time Low is and what it should sound like and for us, it's just important that we stick to that."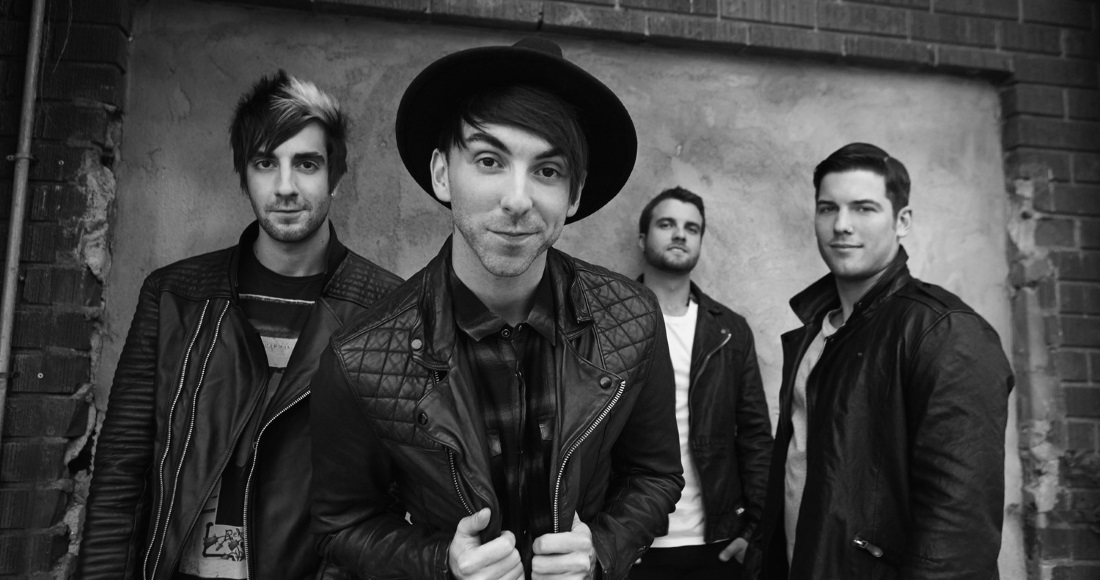 So there won't be an All Time Low jazz covers album coming any time soon?
"I don't think so! I don't think there's a place for it… at the moment anyway! That isn't to say we want to keep doing the same thing forever. We walk a fine line because there's a lot of new fans and old fans and we want to stay true to where we've come from, but we also don't want to become stagnant. I'd like to think at some point we could put out a very different-sounding record. It doesn't feel like the time right now – this current record mixes classic sound with a few new bits."
This is your sixth album. Where does it rank on the scale of All Time Low albums for you?
"It's so hard to say. All the albums have a different weight to me. At the moment, Future Hearts is so fresh and feels like the best thing we've ever done. It's hard to see it in the grander picture at the moment, but it's definitely up there. That said, I'm getting the same feeling putting out this record as I did with [2009's] Nothing Personal. There's something about this album that seems to have genuine excitement around it, which is amazing."
For new fans who maybe aren't as familiar with you, what's the most important thing they should know about All Time Low?
"We're here to stay! We have no plans on slowing down or stopping. It's been a long, gradual build and it's important for us to keep going and laying down foundations for a long career. We've never been interested in blowing up overnight and living in fear that our next release wouldn't be a hit. We want to tour consistently and constantly get our music out there in whatever way we can. The most important thing about All Time Low is that it's a journey. I don't think we have causal fans who like one song and move on – it helps to know our whole story."
There's some incredibly, erm, detailed fan fiction about you on the internet; what's the most shocking story you've read?
"I don't read it for entertainment sake! I would find it too strange reading stories about myself. It's powerful stuff though! I don't know how the people writing it come up with their ideas, but it's definitely out there. I hear there's a lot of man-on-man stuff out there as well. Hey, these kids have big imaginations and more power to them! I appreciate their creativity."
Now that the album is out, what happens next?
"We're busy! We are prepping for our US tour which starts next week and that takes us until June, and then we're in Europe over the summer for some festivals. Basically we just want to get on the road and play these songs to people!"
All Time Low's Future Hearts is out now.