New entries at the top of the chart are always exciting, but just as there's more than one way to skin a rabbit (or so we're told; we have never tried), there's more than one route to Number 1. And an incredible two decades ago, a new worldwide star was showing that slow and steady won the race.
It would be fair to say that when Canadian singer Alanis Morissette launched her music career in the UK, she didn't exactly set the charts alight. Her big debut, the fantastically acidic tale of a scorned woman, You Oughta Know, entered the Official Singles Chart at 76 before slowly rising to Number 22. The same week of that peak, in August 1995, her album Jagged Little Pill also limped in at 76 (spooky, eh?), which in modern times would probably mean you'd have to have a very serious chat with your record label.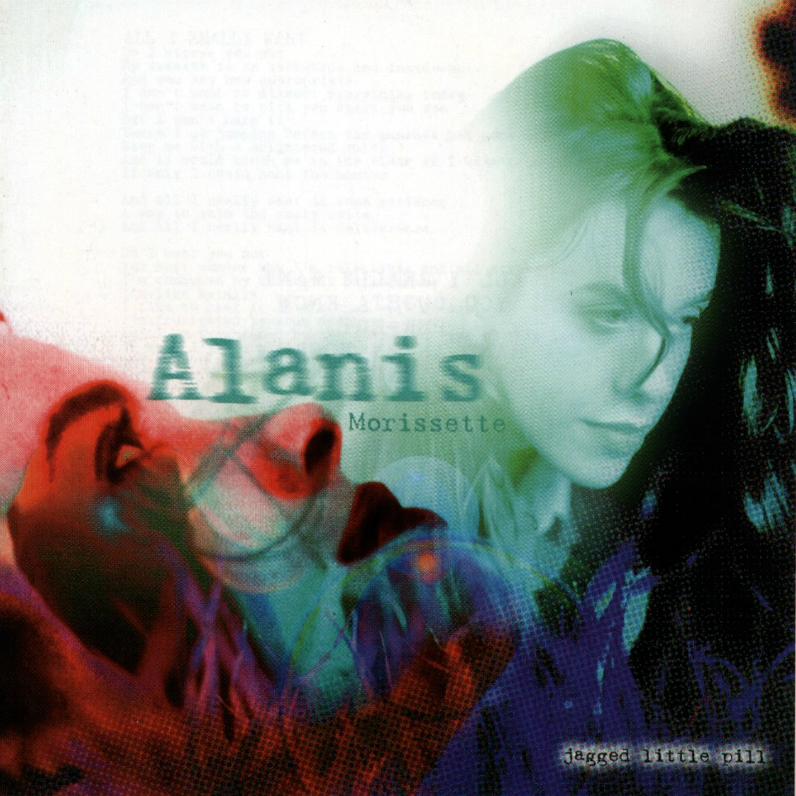 But not everyone realises they're on to a good thing straightaway – artists grow on us. And after a further three Top 40 singles, hype around Alanis had sufficiently increased tot ake her all the way to the top spot, where she belonged. It had only taken her eight months (!) but her patience was rewarded.
Jagged Little Pill spent 11 weeks at Number 1 (8 of them consecutive) and went on to be the biggest selling album of 1996, shifting 1.627 million copies that year, beating big releases from Spice Girls and Oasis. Its sales tally now stands at an impressive 2.7 million copies.
MORE: See all Alanis's peak chart positions for her singles and albums in the UK
Alanis's best selling singles
It was a monster album, but only one single from Jagged Little Pill hit the Top 10 – Head Over Feet – but it isn't the set's top seller, or indeed Alanis's best selling single in the UK. That honour goes to Ironic, which, as any dictionary enthusiast/bore will tell you is in itself ironic – because its supposedly ironic lyrics actually aren't. Yet it's called Ironic. Are you still with us? Yes, the evenings do fly by in our house, why do you ask?
Ironic's combined sales tally stands at 371,000, which might not seem high, but remember: that album was a big seller, passing its first million after a year on sale.
Next up is the lead single from her follow-up LP Supposed Former Infatuation Junkie, Thank U. Featuring Alanis wearing nary a stitch of clothing, yet some strategically placed hair, the track became the last of two Top 10 hits (so far!) and and is her highest-charting single in the UK, reaching Number 5 in October 1998.
Despite missing the Top 20, Alanis's debut single You Oughta Know is up in third, benefiting from new fans discovering the track and downloading, helped in part, perhaps, by acts like Beyoncé and Britney opting to cover it in live performances.
Watch Britney absolutely killing it back in 2010:
Despite never charting or being offficially released as a single, haunting ballad Uninvited makes Alanis's Top 10. The track originally featured in Meg Ryan movie City of Angels and was memorably reinvented as an absolute club banger by remix wizards Freemasons They eventually went the whole hog and covered it themselves, with Bailey Tzuke on vocals, taking it to Number 8 in 2007.
Here's Alanis's Official Top 10 biggest selling singles in the UK:
| | | | |
| --- | --- | --- | --- |
|   | TITLE | PEAK | YEAR |
| 1 | IRONIC | 11 | 1996 |
| 2 | THANK U | 5 | 1998 |
| 3 | YOU OUGHTA KNOW | 22 | 1995 |
| 4 | HEAD OVER FEET | 7 | 1996 |
| 5 | HAND IN MY POCKET | 26 | 1995 |
| 6 | YOU LEARN | 24 | 1996 |
| 7 | HANDS CLEAN | 12 | 2002 |
| 8 | UNINVITED | N/A | 1998 |
| 9 | JOINING YOU | 28 | 1999 |
| 10 | ALL I REALLY WANT | 59 | 1996 |
©2016 Official Charts Company . All rights reserved.
 Main image: Rex