Every Beatles studio album is iconic in its own way, but 2019 sees the 50th anniversary of perhaps the most legendary of them all, Abbey Road (Sgt Pepper fans may disagree with this accolade, of course.)
The Fab Four's 11th studio album has earned its place in Beatles' lore thanks to being the last album they recorded together – though not the last one they released – and that classic album cover, immediately recognisable and much imitated.
To mark Abbey Road's half-century, the album is being reissued in a special edition, which features additional tracks from the sessions, alternative takes of classic songs and all manner of behind the scenes and background info on the Beatles' swansong. We look back at how Abbey Road "came together", check in on its biggest songs in the digital era, and the album's impact with a few facts.
1. It was the second album the Beatles recorded in 1969
The Beatles burned briefly but they burned bright, and they were certainly prolific. Abbey Road was the final album they recorded together, finishing in August 1969, but it wouldn't be their final release. 1970 release Let it Be was actually recorded first but shelved after a few disagreements about its quality and how it should sound. Recording began on Abbey Road just three weeks after the Let it Be sessions ended and once it was ready, the band wanted it out straightaway.
2. Abbey Road was Number 1 for a long time
Most Beatles' albums had a decent stint at the top, and Abbey Road was no exception, racking up 17 weeks at Number 1. The first 11 were consecutive, starting October 1969 and runnign right through to December. It was toppled for one week before returning to the Number 1 slot for a further six weeks through to February 1970. And who interrupted that chart run? It was their old rivals The Rolling Stones, with Let it Bleed.
MORE: Look back at all the Beatles' UK hit singles and albums in their Official Chart archive
3. The Beatles recorded it knowing it would be their last album together - or did they?
It is generally understood that the Beatles knew Abbey Road would be their final album, with John unofficially quitting the band just weeks after recording completed – although this was never announced and various reonciliations happened before the big split in 1970. Legend has it the band couldn't stand the sight of each other by this point, and it was true that during the recording of Let it Be and its accompanying documentary there was a lot of ill feeling, but there was generally a sense they were getting on better during the Abbey Road sessions. Tapes from a meeting around that time record the Beatles – minus George who was in hospital – discussing a potential follow-up album quite harmoniously. Although John does stick the boot in about one particular song quite a bit. More on that later…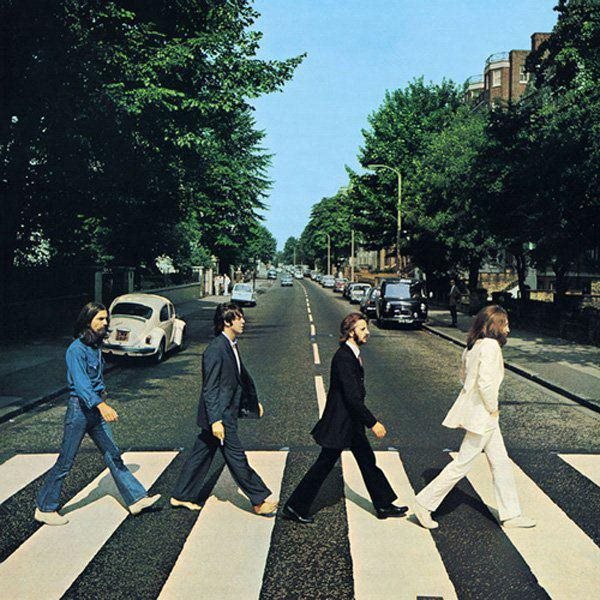 4. How the album got its name
Yes, obviously the album was named after London's Abbey Road in the (very posh) suburb of St Johns Wood, the site of the now-famous studio where much of it – and previous Beatles material – was recorded. Yep, much of it: not all of Abbey Road was actually recorded at Abbey Road; some tracks were laid down at studios in Soho or Barnes, west London. So why did they call it Abbey Road? To be honest… they couldn't think of anything else. Its working title was Everest – after a brand of cigarettes, not the mountain – and one idea was to head to the actual Everest in the Himalayas to shoot the cover but they couldn't really be bothered. The band changed tack, decided to call it Abbey Road, and popped outside for a quick photo session, taking less than half an hour to shoot one of the most famous album covers on Earth.
5. That iconic cover
The cover was shot on the zebra crossing right outside the studio on 8 August 1969, a Friday. It was Paul McCartney's idea; he sketched out exactly what he wanted. Why is Paul barefoot? Well, it's nothing to do with any conspiracy theory - he was hot and kicked off his sandals, he said. Six snaps were taken, and in a couple of them, Paul is indeed wearing what look like some very expensive flip flops. The cover featured neither the band's name nor the album's title. The crossing is still there and is often swamped by fans taking tribute pics, causing traffic chaos. There's even a webcam set up so you can watch people recreate it. While Abbey Road Studios itself has gained legendary status, it wasn't officially known by that name then. Back then it was just EMI Studios. The renaming came in 1970, once the Beatles had added to its celebrity.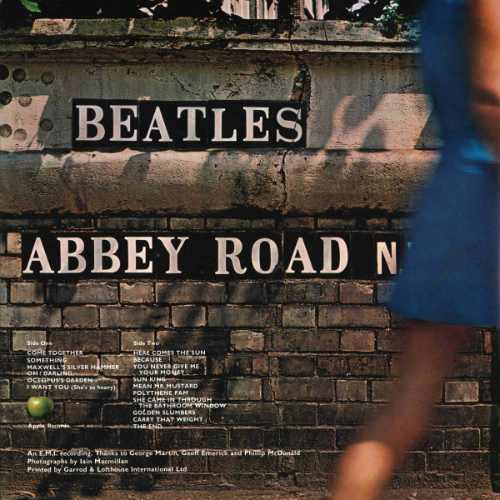 Standout tracks
6. Come Together
The second most popular Abbey Road track, Come Together was released as a double A-side with Something and was their penumtimate hit together, reaching Number 4. Alone, it's achieved 82,000 downloads and 27 million streams. It's been covered tonnes of times, charting as a charity single for Paul McCartney/Paul Weller/Noel Gallagher supergroup Smokin' Mojo Filters in 1995 and for the Arctic Monkeys in 2012.
7. Something
Something was the only George Harrison-penned song to be an A-side on a single. John said it was "the best track on Abbey Road" and it won an Ivor Novello Award. Something has been downloaded 37,000 times and has racked up 12 million streams. Legendary diva Shirley Bassey covered the song in summer 1970, also reaching Number 4.
8. Here Comes the Sun
With over 53.7 million plays, it's the Beatles' most streamed track of all time. Here Comes the Sun has amassed 165,000 downloads to become the most popular Abbey Road track of the digital age. Another George Harrison track, he wrote it when he bunked off a Beatles' business meeting to spend a day in the sun, round at his mate Eric Clapton's house. it never charted for the Beatles as it wasn't a single, but Steve Harley & Cockney Rebel covered it in 1976 and went Top 10.
MORE: The Beatles' Top 40 most streamed songs
9. Octopus's Garden
Penned and sung by Ringo, the Octopus's Garden of the title comes from a story Ringo heard that octopuses (octopi, if you prefer) are prone to gathering stones to make a garden for themselves. It was, apparently, only the second song Ringo had ever written.
10. Maxwell's Silver Hammer
Most notable because it is possibly one of the most unpopular Beatles songs ever recorded. A McCartney composition, the rest of the band weren't very keen, and John especially hated it. He may have had a point, to be honest. Jauntily telling the tale of a young serial killer (Maxwell) who enjoys stoving people's heads in with a blunt instrument (the silver hammer), it's not one of the album's standouts.
11. The End
Not a particularly famous song, or a popular one off the album, but it does have the distinction of being the last track the foursome ever recorded together.
12. Abbey Road's tracks ranked by most downloaded:
| | |
| --- | --- |
| 1 | HERE COMES THE SUN |
| 2 | COME TOGETHER |
| 3 | SOMETHING |
| 4 | OCTOPUS'S GARDEN |
| 5 | GOLDEN SLUMBERS* |
| 6 | I WANT YOU (SHE'S SO HEAVY) |
| 7 | OH! DARLING |
| 8 | CARRY THAT WEIGHT* |
| 9 | MAXWELL'S SILVER HAMMER |
| 10 | THE END* |
| 11 | BECAUSE |
| 12 | YOU NEVER GIVE ME YOUR MONEY* |
| 13 | SHE CAME IN THROUGH THE BATHROOM WINDOW* |
| 14 | POLYTHENE PAM* |
| 15 | SUN KING* |
| 16 | MEAN MR MUSTARD* |
| 17 | HER MAJESTY** |
©2019 Official Charts Company . All rights reserved.
13. Abbey Road's tracks ranked in order of most streamed:
| | |
| --- | --- |
| 1 | HERE COMES THE SUN |
| 2 | COME TOGETHER |
| 3 | SOMETHING |
| 4 | GOLDEN SLUMBERS* |
| 5 | OCTOPUS'S GARDEN |
| 6 | I WANT YOU (SHE'S SO HEAVY) |
| 7 | BECAUSE |
| 8 | MAXWELL'S SILVER HAMMER |
| 9 | CARRY THAT WEIGHT* |
| 10 | YOU NEVER GIVE ME YOUR MONEY* |
| 11 | THE END* |
| 12 | SHE CAME IN THROUGH THE BATHROOM WINDOW* |
| 13 | SUN KING* |
| 14 | POLYTHENE PAM* |
| 15 | MEAN MR MUSTARD* |
| 16 | OH! DARLING |
| 17 | HER MAJESTY** |
©2019 Official Charts Company. All rights reserved.
* = on the original release, these tracks were part of a medley on side 2. They're now recognised as individual tracks. The Beatles' music was first mad available digitally in 2010.
** = on the original release, her Majesty was a hidden track. Bonus fact: At 23 seconds, it is also the shortest Beatles track ever to feature on an album.