2015's been a bumper years for chart records and all manner of statty geekery. We take a look at some of the facts and figures you might not know about the Official Charts from this stellar year.
1. The fastest-selling album of 2015 was Adele's 25 – it scored over 800,000 chart sales in November to make it the biggest Number 1 album ever.
2. Adele's 25 became the UK's fastest million-selling album ever, too. 25 reached the milestone in just 10 days, smashing Oasis' 1997 record with Be Here Now, which took 17 days.
3. Fastest-selling single of the year? Oh, guess what? Yes, that goes to Adele too – Hello notched up a staggering 333,000 chart sales.
4. Adele broke the record for streams, too: Hello racked up a massive 7.32 million listens in its first week.
5. Justin Bieber set a few chart records in 2015. First he scored the biggest week's streams with What Do You Mean – later smashed by Adele's Hello – but he was the first living artist in over 50 years to replace himself at Number 1. Love Yourself knocked Sorry off the top in December, the first time a living artists had done so since the Beatles managed it in 1963 with She Loves You/I Want To Hold Your Hand. (The last time any artist achieved this feat was in 2005, when Elvis replaced himself at Number 1.)
6. Justin was also the first living male artist to hold the Number 1 and Number 2 slots with Sorry and Love Yourself. The last person to do so had been Madonna in August 1985, when Holiday was kept off the top by Into The Groove.
7. Justin was also the first artist since John Lennon to land three singles in the Top 5 simultaneously. 
8. Oh, and while we're here, another record for J-Biebs: he was the first EVER living artist to score eight simultaneous Top 40 singles in the UK.
9. And yeah, another: Justin spent more weeks at Number 1 in 2015 than any other artist.
10. Justin is also the only artist to return to the top spot with the same song in 2015 – What Do You Mean reached Number 1 on three separate occasions. He's only the fourth artist EVER to hit Number 1 on three separate occasions with the same song.
11. Longest run at Number 1 for one song on the Official Singles Chart goes to Mark Ronson and Bruno Mars's Uptown Funk, which spent six weeks at the top at the very start of the year.
12. There were 23 Number 1s on the Official Singles Chart.
13. Five acts had more than one Number 1 – Jess Glynne (3), Justin Bieber (3), Tinie Tempah (2), Charlie Puth (2) and Sam Smith (2).
14. Jess Glynne scored three Number 1s in 2015: Hold My Hand, Not Letting Go (with Tinie Tempah) and Don't Be So Hard On Yourself. This brought her total to five and made her level with Cheryl Fernandez-Versini as the British females with the most UK Number 1s in history!
15. A whopping 39 albums have reached Number 1 on the Official Albums Chart this year.  The first was George Ezra's Wanted On Voyage; the last was Adele's 25.
16. Sam Smith's In The Lonely Hour peaked at Number 1 the most times this year – he reached the top on four separate occasions in 2015.
17. Sam Smith scored a chart record this year when In The Lonely Hour notched up a 67th consecutive week in the Official Albums Chart Top 10 – the longest unbroken run ever for a debut album. It managed 69 consecutive weeks in the end, before dropping out in October
17. Only five of this year's Official Albums Chart Number 1s were by female artists – Meghan Trainor, Florence + the Machine, Jess Glynne, Cilla Black and Adele.
18. The Chemical Brothers set a new chart record this year when Born In Echoes gave them their sixth Number 1 album. The duo lay claim to the most chart-topping studio albums for a dance act in Official Chart history.
19. Two artists topped the chart posthumously this year – Cilla Black scored her first ever Number 1 album with The Very Best Of, following her death in August, and Elvis racked up his 12th chart-topping release with If I Can Dream, which spent two weeks at Number 1.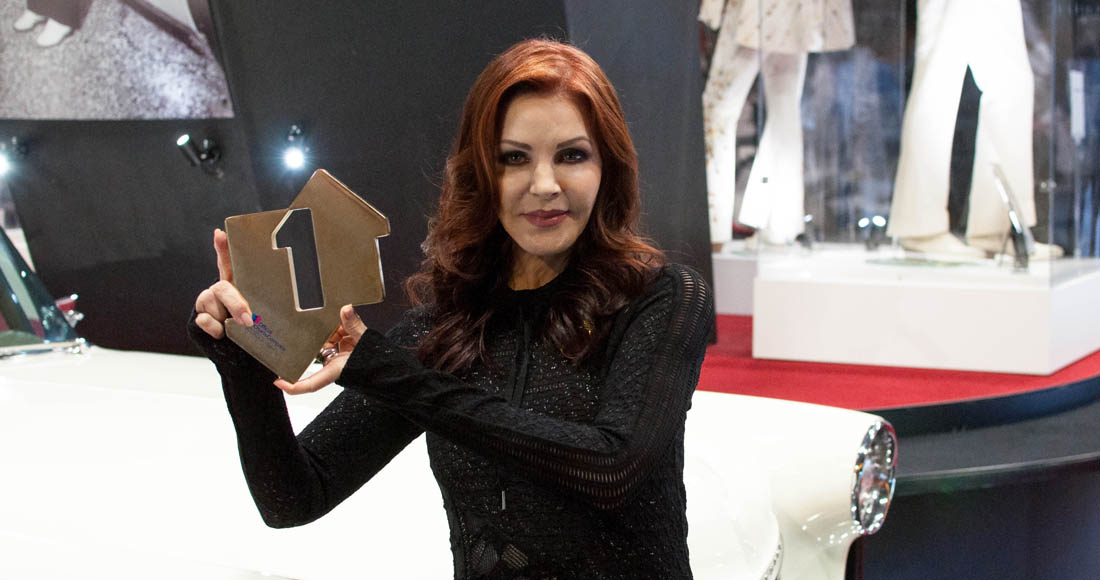 Priscilla Presely presented with Official Number 1 Album Award for If I Can Dream
20. Elvis's 12th Number 1 album gave him a new chart record: he overtook Robbie Williams to be the male solo artist with the most UK Number 1 albums. His tally puts him level with Madonna and behind the Beatles, who have 15. His former wife Priscilla accepted the King's Official Number 1 Award.
21. From 1 March 2015, the Official Albums Chart included streaming data for the first time. The first Number 1 album on the new-look chart was Sam Smith's In The Lonely Hour.
22. An even bigger evolution of the chart happened in summer 2015 with the birth of new Music Fridays, introducing a new global release day for all new music. With singles and albums now being released on a Friday, the chart week changed so that sales would be counted from Friday–Thursday instead of Sunday–Saturday. It meant the Official Chart announcement on Radio 1 would have to move too, and now we have the Number 1 kicking off our weekend rather than rounding it off. Good news for anyone who wants to celebrate Number 1 without worrying about a Monday hangover!
23. The last Number 1 single on a Sunday was Lost Frequencies' Are You With Me?
24. And the last album to be unveiled on a Sunday? That was Lionel Richie and the Commodres' Definitive Collection.
25. The first Official Singles Chart Number 1 to be announced on a Friday was the London DJ David Zowie with dance track House Every Weekend.
26. The first Official Albums Chart Number 1 to be revealed on a Friday was Ed Sheeran's x.
27. 2015 saw the debut of the new Official Vinyl Chart. The first Number 1 album was All Time Low's Future Hearts and first to the top the Official Vinyl Singles Top 40 was Baby Wants To Ride, a collaboration between Underworld and Harley & Feller.
28. We also launched the new Official Progressive Albums Chart – the first Number 1 was Tame Impala's Currents. View the latest chart here.
29. The Official Chart Update monitors midweek sales to give us an idea of what might be Number 1 on chart day. In singles, only eight times has a midweek Number 1 not gone on to take the top spot when the chart is announced.
30. Eight songs have taken a seat in the million-sellers' club in 2015:
John Legend – All of Me 
Katy Perry – Roar (a second million-seller for Katy after Firework) 
Mark Ronson – Uptown Funk (passed the milestone just ten weeks after release) 
Ed Sheeran – Thinking Out Loud 
Enrique Iglesias – Hero
Swedish House Mafia feat. John Martin – Don't You Worry Child
No Doubt – Don't Speak
Eminem – Lose Yourself
31. Fastest selling DVD of the year was saucefest Fifty Shades of Grey. Based on EL James's book and starring Jamie Dornan and Dakota Johnson, the movie racked up huge first-week sales of 528,000.
32. Only two songs have topped the streaming chart but not made it to Number 1 on the Official Singles Chart – first, Rihanna's FourFive Seconds and then Major Lazer's Lean On.
33. OMI's Cheerleader was the most streamed track of the week for eight weeks in a row in the summer. Justin Bieber's What Do You Mean matched it later in the year.
What was your top music moment of 2015? Hit us up on Facebook, Twitter or slide right into our comments below…