1. In January, Ed Sheeran entered at Numbers 1 and 2 on the Official Singles Chart with Shape of You and Castle on the Hill, the first time any artist had achieved this. Shape Of You (which is the most streamed song ever) scored combined sales of 227,000 to Castle on the Hill's 194,000.
2. Little Mix's Glory Days became the longest-reigning Number 1 album from a girl group in over 20 years, since Spice Girls' Spice, when it returned to Number 1 for a fifth week in January.
3. In February, La La Land became the first soundtrack to top the Official Albums Chart since Les Miserables from 2013.
4. BRITs Critics' Choice winner Rag'n'Bone Man secured the fastest-selling male debut album of the decade in February with Human, shifting 117,000 units in its first seven days.
5. Stormzy's Gang Signs & Prayer struck a chord in March when its success resulted the first ever pure Grime Number 1 album.
6. Ed Sheeran's third studio album ÷ broke records in March, topping the Official Albums Chart with the biggest first-week sales ever by a male solo artist with 672,000 combined sales.
7. Speaking of Ed, ÷ outsold the entirety of the Official Albums Chart Top 500 in its first week of release.
8. We're still on Ed: he smashed the record for the most first-week streams of an album ever recorded - ÷ accumulated 79,000 album equivalent streams.
9. More Ed! Following ÷'s release, all 16 of the album's tracks charted within the Official Singles Chart Top 20, nine of which hit the Top 10.
MORE: Ed Sheeran scores the 2017 Christmas Number 1 single with Perfect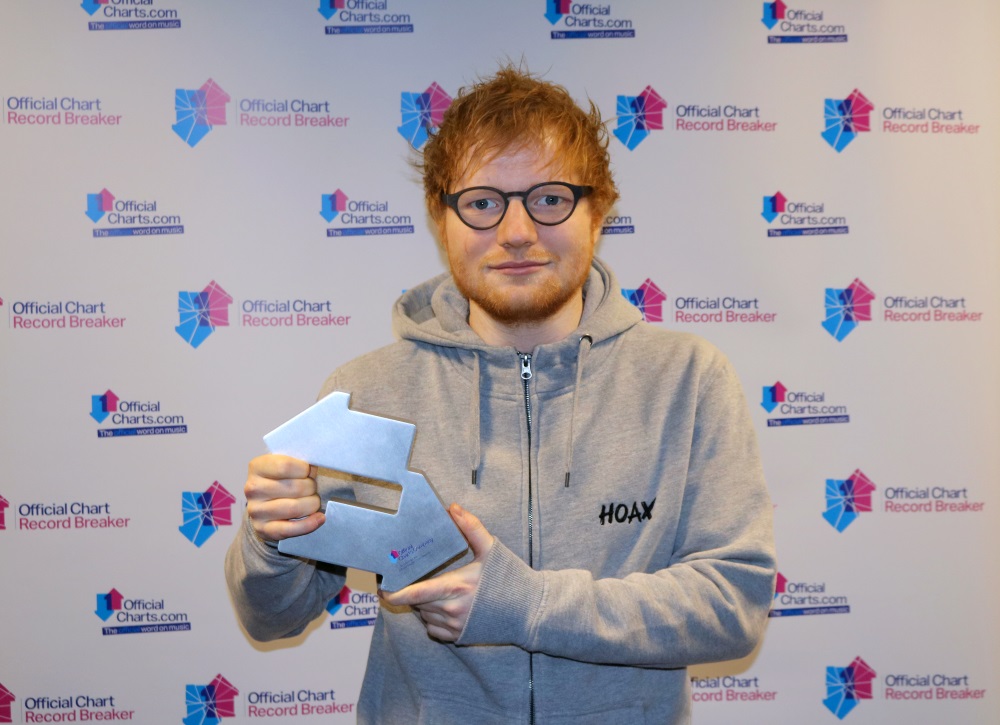 10. One final chart fact about Ed won't hurt, right? ÷ features more UK Top 10 singles on it than any other artist album, with 10.
11. Vera Lynn made history when her album, 100, charted at Number 3, making her the first living centenarian to have a Top 10 album.
12. Take That's Wonderland scored the highest first-week sales for any album that didn't reach Number 1 in 2017, racking up 113,200 combined sales to debut at Number 2 behind, you guessed it, Ed Sheeran.
13. After 13 consecutive weeks at Number 1 on the Official Singles Chart, Ed Sheeran's Shape Of You was dethroned by Harry Styles' Sign Of The Times. However, Ed did return to Number 1 for a final week the following Friday.
14. At 5 minutes and 41 seconds, Sign Of The Times was the longest song to reach Number 1 since Martin Garrix's 2013 single Animals, which also ran for over five mins.
15. DJ Khaled, Justin Bieber, Chance the Rapper, Quavo and Lil Wayne debuted at Number 1 with I'm The One in May, the first song to the top the chart with five artists on one track since The Notorious B.I.G., P Diddy, Nelly, Jagged Edge and Avery Storm's Nasty Girl ruled the roost in February 2006.
16. In May, Kasabian became the first act to knock Ed Sheeran from the Official Albums Chart Number 1 with their fourth chart topper For Crying Out Loud, which is also the best-selling artist album on cassette in 2017.
17. Here comes the Spanish invasion! In May, Luis Fonsi and Daddy Yankee's Despacito began it's 11 non-consecutive weeks at Number 1, becoming the longest-reigning foreign language Number 1 hit in UK chart history.
18. In turn, Fonsi and Yankee joined Ricky Martin as the only Puerto Rican musicians to ever top the Official Singles Chart.
19. Despacito had three separate stints at Number 1, becoming only the sixth song to ever achieve this feat.
20. Four Spanish language songs ended up as Top 10 hits in 2017 following the surge in popularity for Latin music: Despacito, Mi Gente from J Balvin and Willy William, Enrique Iglesias, Sean Paul and Matt Terry's Subeme La Radio, and Reggaeton Lento by CNCO and Little Mix.
21. Justin Bieber spent one week at Number 1 and 2 in 2017, taking his all-time total occupying the Top 2 slots at the same time to 13 weeks, more than any other artist.
22. Following a devastating terrorist attack during an Ariana Grande concert in Manchester in May, the singer's track One Last Time became an anthem of hope and reached a new peak of Number 2 on the Official Chart after.
23. Some 50 years after it first topped the Official Albums Chart, The Beatles' Sgt Pepper's Lonely Hearts Club Band claimed the record for the longest span between an album first reaching Number 1 (in June 1967) and returning to the summit (in June 2017).
24. Charity song Bridge Over Troubled Water by Artists For Grenfell had the biggest opening day combined sales of any single this decade, shifting 120k in its first day on sale.
25. In August, Dua Lipa became the first female soloist the top the Official Singles Chart in nearly two years, since Adele's Hello in 2015.
26. DJ Khaled, Ed Sheeran, Justin Bieber and Clean Bandit are the only acts to have two Number 1 singles in 2017.
27. In September, The Killers managed their fifth consecutive Number 1 record, making them the first international group to manage an untarnished career streak of five Number 1 studio albums from the release of their debut album.
28. In December, Eminem scored the Christmas Number 1 album. Revival was his 8th consecutive Number 1 album, equalling a record held by ABBA and Led Zeppelin.
29. Ed Sheeran scored 2017's Official Christmas Number 1 with Perfect.
30. Liam Gallagher scored the fastest-selling vinyl album of the last 25 years in October when 16,000 copies of As You Were were picked up on black plastic in just one week.
31. 2017 was also the strongest sales year in a decade for cassettes! 20,000 were sold overall.
32. And finally, 2017 was a big year for DVD and Blu-ray sales, with Rogue One: A Star Wars Story finishing as the year's best-seller, with 1 million copies flying off the shelves.