2018 had already brought some big records with it, including albums by Camila Cabello, George Ezra and First Aid Kit. But what else does 2018 have in store for us? Here's a selection of some albums to get excited about in the coming year...
Avril Lavigne
It's approaching five years since the singer-songwriter released her last self-titled album. Since then, she has signed a new record deal with BMG, split up with her former husband Nickleback's Chad Kroeger and has battled with lyme disease that at its worst left her bedridden for five months. Unsurprisingly, she has a lot to say.
Posting on Instagram, she said: "I'm so f---ing pumped. Waking up so excited. February is a great month. I've started mixing my album and all of the pieces are finally coming together. "These songs are so close to my heart. Wish me luck while I throw every last drop of me into these final stages."
There's no word on an exact release date yet, but it seems pretty safe to say it'll be coming in 2018.
Charlie Puth
Charlie's second album, VoiceNotes, was set for release on January 19 but was pushed back to May 11. In January, Charlie tweeted: "The bad news is that I have to push the album release date. I'm producing this album all myself and with that comes a lot of work, and in my opinion, the album is not perfect yet."
Two Top 10 singles, Attention and How Long, plus Done For Me, have already been released - and you can expect more slick pop on the full album. While Charlie's debut spawned two Number 1s and the second most-viewed music video ever on YouTube, we've got faith he can pull more success out of the bag in May.
Carly Rae Jepsen
The slow burner success of Carly's 2015 album Emotion has left an army of fans eagerly awaiting her next move. The singer recently hinted her next collection could be disco-influenced, posting what looks like lyrics to a song on her Instagram bio - and if that's not confirmation, we don't know what is.
Shawn Mendes
Shawn has been posting pictures of himself in the studio (and shirtless on a nearby beach) and it looks like he's having a lot of fun recording his next batch of material. Shawn has taken to Twitter to let fans know that they don't have too long to wait: "Absolutely dying to get back on the road. With all new music. "Excited for you to hear all the new music. Feels like its been forever working on it, put all i have into this album. Hang in there just a little longer x".
Shawn kicked off his new campaign with a double release - the rousing In My Blood and super slick Lost In Japan - so expect album details imminently.  
Robyn
It feels like forever (we're being dramatic, it's been eight years) since Robyn released her Body Talk series of albums back in 2010, but after a series of collaborative projects, including the incredible Do It Again EP with Royksopp, the Swedish pop powerhouse is poised to pounce with new music.
Responding to a fan who asked who decides when her new album will be released, she replied: "I do. Some time this year honey." *pants heavily*
Liam Payne
Expect Liam Payne's album to be eclectic: "It's more like my playlist album; my favourite playlist of songs that I have made over the past year," Liam explained to iHeartRadio. "So, some slow jams, there's a couple of dance songs on there, with some R&B stuff."

Liam then told The Hits Radio the album is coming in early 2018 and told us what we can expect alongside the singles Strip That Down, Bedroom Floor and For You: "I didn't really want to nail myself down so there's some dark pop on there, some super urban tracks and a lot of trap music." There's also a Latin track - Liam will soon release Familiar with J Balvin. Watch this space.
Ella Henderson
Ella Henderson's follow-up to debut Chapter One was said to be imminent, but now we're not so sure. In November 2017, Ella revealed in a mailer to fans that she couldn't wait to share new music with fans "in the new year".
It has since been reported that Ella has parted ways with her record label Syco, so there's no firm idea when we can expect fresh material. However, we do know Ella's been working with Jax Jones, The Script's Danny O'Donoghue, Max Martin, MNEK and Julia Michaels, so we doubt she'll sit on those songs for long.
Ray BLK
The BBC's Sound Of... 2017 winner became the first unsigned act to pick up the gong. She's been working hard since, telling NME in November last year that she's been wanting to "get the sound right".
"The theme for me is about female empowerment," she explained. "It's a feminist album. Now more than ever. There's a lot of women that are on top right now and at the front of this."
Years & Years
Olly, Emre and Mikey released their chart-topping debut album Communion in 2015 - and the follow-up is coming this year. The group performed a brand new song called DNA during Radio 1's Sound of 2018 show in January, and their brand new single Sanctify entered the Top 40 in March.
The Prodigy
The electronic demons are returning in 2018 with their seventh studio album, possibly eyeing a seventh Number 1 on the Official Albums Chart. No pressure lads. Liam, Keith and Maxim are on the move, signing a fresh deal with BMG, and the band describe their new pals as "great guys who totally understand our band" who they're ready to "make some noise" with.
Zayn
Zayn had a pretty good 2017, building anticipation for his second solo album. He kicked off with fresh tropical house-inspired Still Got Time and later released enlisted Sia to guest on Dusk Till Dawn, which became the longest-reigning Top 10 hit on the Official Chart for any One Direction member. 
The as-yet-untitled new album will have "a more optimistic tone" and "shows a lot of growth", according to the CEO of Zayn's record label and latest track Let Me gives us another taste of what's to come…
Arctic Monkeys 
The Sheffield band's sixth album is imminent: Tranquility Base Hotel + Casino is slated for release on 11 May and the band have a jam-packed summer touring schedule to promote it.
A sixth Number 1 studio album in a row? We think that's a strong possibility. Read more on everything we know so far on the album here.
Madonna
It looks like new Madge music will be released this year, after she posted a (brilliantly dramatic) picture of herself in the studio in January with the caption: "Feels so good to be working on music again!" Nothing else is known at the moment, but once Madonna gets going, she's unstoppable. 
Janelle Monae
It's been five years since Janelle Monae released an album, and we are seriously chomping at the bit to hear her next. We thankfully don't have much further to wait, as Janelle's third official album Dirty Computer will be released on April 27. Co-lead singles arrived in February - the Prince-inspired Make Me Feel and empowering rap track Django Jane, and have been followed up by Pynk, complete with eye-catching video. Where do we get our hands on some trousers like that?! 
Little Mix
These girls never stop, do they?! Following their first ever UK Number 1 album Glory Days, and as they prepare to embark on their Summer Hits Tour, Little Mix are on the case with their fifth studio album.
Leigh-Anne confirmed: "So we've got the new album coming out this year which is really exciting. Then the tour will follow the following year. Basically, we've got our lives planned out for the next two years, but it's great."
Bebe Rexha
She's seen plenty of chart success as a featured artist but now it's time for Bebe Rexha to take the limelight herself. Her studio debut, Expectations, is slated for release June 22. The collection features mega hit Meant To Be with Florida Georgia Line, plus the recently-released Ferrari and 2 Souls On Fire.
Ariana Grande
New Ariana is on the way! The first evidence that new music is on the horizon was an a studio pic Ari shared to her socials on New Year's Eve 2017 with the caption: "See you next year". 
We know that Ariana has been working with Pharrell Williams, and according to Ariana'a manager Scooter Braun, she is about to have her Whitney moment: "Whitney, Mariah, Adele… when they sing, that's their song. Ariana has big vocal moments; it's time for her song." 
The album's lead single is expected to arrive in May, while a clip of a collaboration with Dua Lipa recently surfaced online. Read everything we know about Ariana's fourth studio album so far here.
Chvrches
"I feel like it's the most pop stuff we've done and also the most aggressive and vulnerable at the same time." An exciting quote from Chvrches lead vocalist Lauren Mayberry, right? The Scottish trio have been working with production royalty in Greg Kurstin, and told Entertainment Weekly: "He's done such big pop records, but they've always got a bit of saltiness in them." We can definitely hear that in lead single Get Out - bring on the rest of the album, which is cheerily titled Love is Dead, and out 25 May.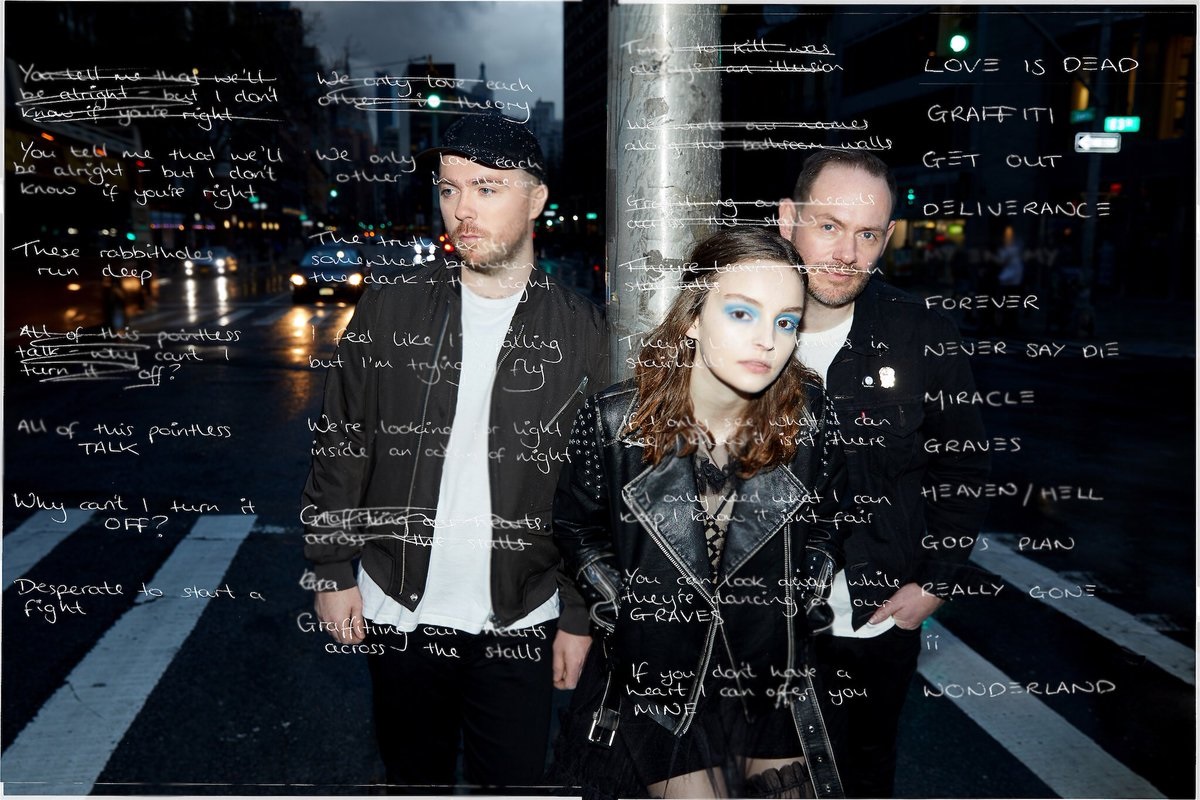 Marina & The Diamonds
Marina has been hard at work on the follow-up to 2015's Froot. In February, she posted a rare music update, revealing the record was almost ready to go into production after a year of writing songs.
Anne-Marie
BRITs Critics' Choice nominee Anne-Marie has been hard at work on her debut album Speak Your Mind, coming out on April 27. Included are Top 40 hits Alarm, Ciao Adios and Heavy, plus a song written with Ed Sheeran her new Top 10 Marshmello collaboration, FRIENDS. To be clear, this is not a greatest hits album.
"[Ed and I] have actually done a song together, which is going to be on my album," the 26-year-old told NME. "We've been friends for nearly 10 years now, [but] obviously he's always out of the country and I'm always out of the country. So one time we were both in London and we just got in the studio and we did this song."

Nicki Minaj
Nicki Minaj's fourth studio album has seen more stops and starts than the M25 at rush hour, but it's coming. Following a tringle in March 2017 (that's three singles at once FYI) there was radio silence until new tracks Barbie Tingz and Chun-Li appeared a whole year later.
"This is the best album I've ever, ever, ever in my life created," Nicki said in an interview with Zane Lowe for Beats 1. No idea of release date yet but hopefully Nicki won't keep us waiting much longer.
Rita Ora
Yep, Rita Ora's second studio album is actually happening, although… it's been delayed again! It turns out we'll have to wait until autumn 2018 for the album, perhaps because Rita is going on tour first. No title yet, but along with Top 10 hits Your Song, Lonely Together, Anywhere and For You, the album will feature songs she has worked on with hitmakers Stargate and songwriter Julia Michaels.
Your Song was written by Ed Sheeran for Rita, while Anywhere was penned by her new boyfriend Andrew Watt, who, coincidentally wrote Camila Cabello's Havana, which kept Anywhere off the Number 1 spot. D'oh. Read more on how Rita Ora pulled off her pop comeback here.
Troye Sivan
Troye kicked off the campaign for his second album in January with My My My!, his first Top 40 on the Official Singles Chart as a headline artist. He's also released emotional guitar ballad The Good Side, and told BBC Radio 1's Grimmy a collaboration with Ariana Grande is on the way!
In a recent interview, he said a release date hadn't been set as he was still working on some of the songs, posting pictures in the studio with hitmakers Benny Blanco and Cashmere Cat. 
Rihanna
Reports are swirling that new Rihanna music is imminent. The star has been spotted recording in London, New York City and Paris since the release of her ANTI album in late 2016. DJ Khaled, Calvin Harris, Future, Pharrell and possibly Diplo are rumoured collaborators.
Lily Allen
A lot has changed for Lily Allen since she released last album Sheezus, and she's said she felt "disconnected" from the music she was making. Looks she's found her feet at last, and fourth album No Shame is due to drop in June.
So far we've heard Trigger Bang, feat Giggs, and Higher, with Lily promising the set will be more personal than previous works, and there's a suggestion Lily might be returning to her more political, social commentating that characterised her early work.
Azealia Banks
One of the most controversial figures in music, Azealia's become almost better-known for her online spats than her work – after a few false starts following breakthrough single 212, it seems she's ready to return. With forthcoming second album Fantasea II: The Second Wave, Azealia is letting the music speak for itself, and house-inspired lead single Anna Wintour heads up what promises to be an eclectic collection.
The 1975
The band have a lot to live up to after the success off 2016's I Like It When You Sleep..., but  "If you look at third albums, but frontman Matt Healy doesn't seem the least bit fazed. "OK Computer or The Queen Is Dead... that's what we need to do," he said in an interview with Apple Music. "I want people to look back and think our records were the most important pop records that a band put out in this decade." The album is apparently called Music For Cars after one of their early EPs, and previously Matt has teased the date 1 June, but whether that's for the album itself or its first single is anybody's guess.