2018 has already brought some big records with it, including albums by Arctic Monkeys, George Ezra and Kylie. But what else does 2018 have in store for us? Here's a selection of albums to get excited about in the coming year...
Avril Lavigne
It's approaching five years since the singer-songwriter released her last self-titled album. Since then, she has signed a new record deal with BMG, split up with her former husband Nickleback's Chad Kroeger and has battled with lyme disease that at its worst left her bedridden for five months. Unsurprisingly, she has a lot to say.
Posting on Instagram, she said: "I'm so f---ing pumped. Waking up so excited. February is a great month. I've started mixing my album and all of the pieces are finally coming together. "These songs are so close to my heart. Wish me luck while I throw every last drop of me into these final stages."
There's no word on an exact release date yet, but it seems pretty safe to say it'll be coming in 2018.
Carly Rae Jepsen
The slow burner success of Carly's 2015 album Emotion has left an army of fans eagerly awaiting her next move. The singer recently hinted her next collection could be disco-influenced, posting what looks like lyrics to a song on her Instagram bio - and if that's not confirmation, we don't know what is. 
Robyn
It feels like forever (we're being dramatic, it's been eight years) since Robyn released her Body Talk series of albums back in 2010, but after a series of collaborative projects, including the incredible Do It Again EP with Royksopp, the Swedish pop powerhouse is poised to pounce with new music.
In an interview at the Red Bull Festival in New York in May, Robyn confirmed: "It's not finished yet but it's almost there." And when it comes to influences, she's cited psychoanalysis, '90s house, and a late, great popstar. "I always try to write a song that I think maybe Prince would like. That's how I get myself in shape." *pants heavily*
Liam Payne
Expect Liam Payne's album to be eclectic: "It's more like my playlist album; my favourite playlist of songs that I have made over the past year," Liam explained to iHeartRadio. "So, some slow jams, there's a couple of dance songs on there, with some R&B stuff."

Liam has said the as-yet-untitled album will be out 14 September.
Ella Henderson
Ella Henderson's follow-up to debut Chapter One was said to be imminent, but now we're not so sure. In November 2017, Ella revealed in a mailer to fans that she couldn't wait to share new music with fans "in the new year".
It has since been reported that Ella has parted ways with her record label Syco, so there's no firm idea when we can expect fresh material. However, we do know Ella's been working with Jax Jones, The Script's Danny O'Donoghue, Max Martin, MNEK and Julia Michaels, so we doubt she'll sit on those songs for long.
Ray BLK
The BBC's Sound Of... 2017 winner became the first unsigned act to pick up the gong. She's been working hard since, telling NME in November last year that she's been wanting to "get the sound right".
"The theme for me is about female empowerment," she explained. "It's a feminist album. Now more than ever. There's a lot of women that are on top right now and at the front of this." She's announced a headline show in London in October – perhaps there'll be an album announcement around the same time?
The Prodigy
The electronic demons are returning in 2018 with their seventh studio album, possibly eyeing a seventh Number 1 on the Official Albums Chart. No pressure lads. Liam, Keith and Maxim are on the move, signing a fresh deal with BMG, and have debuted some new material at live shows, but there's no confirmation of release date yet.
Zayn
Zayn had a pretty good 2017, building anticipation for his second solo album. He kicked off with fresh tropical house-inspired Still Got Time and later released enlisted Sia to guest on Dusk Till Dawn, which became the longest-reigning Top 10 hit on the Official Chart for any One Direction member. 
The as-yet-untitled new album will have "a more optimistic tone" and "shows a lot of growth", according to the CEO of Zayn's record label and latest track Let Me gives us another taste of what's to come…
Madonna
Madonna has been teasing new music for most of the year on her unmissable Instagram account. Madonna is known to have been back in the studio with Music and American life knob-twiddler Mirwais, and premiered part of a new track Beautiful Game during a performance at the Met Gala. She's also been wearing a huge hat with "Beautiful Game" embroidered on it – could she be trying to tell us something. Either way, it looks like Madge is limbering up.
Little Mix
These girls never stop, do they?! Following their first ever UK Number 1 album Glory Days, and as they tour the country on their Summer Hits Tour, Little Mix are on the case with their fifth studio album.
Leigh-Anne confirmed: "So we've got the new album coming out this year which is really exciting. Then the tour will follow the following year" and has since been pictured staring at her phone on Twitter, with the caption "#LM5 loading…⏳ L. x
Ariana Grande
Ariana's next album Sweetener is coming – slated for release on 17 August. We've already heard lead single No Tears Left to Cry and Nicki Minaj collaboration The Light is Coming, nut what else can we expect.
We know that Ariana has been working with Pharrell Williams, and rumours have been swirling of a Madonna collaboration too! According to Ariana'a manager Scooter Braun, she is about to have her Whitney moment: "Whitney, Mariah, Adele… when they sing, that's their song. Ariana has big vocal moments; it's time for her song." 
Marina & The Diamonds
Marina has been hard at work on the follow-up to 2015's Froot. In February, she posted a rare music update, revealing the record was almost ready to go into production after a year of writing songs, and in an interview to publicise the NHS Voices single in July, Marina said the album was coming along "really, really well" She went on to explain: "I've kind of been writing more than I ever have before which was unexpected because I thought I wasn't going to do this any more for a while.
Nicki Minaj
Nicki Minaj's fourth studio album has seen more stops and starts than the M25 at rush hour, but it's coming. Following a tringle in March 2017 (that's three singles at once FYI) there was radio silence until new tracks Barbie Tingz and Chun-Li appeared a whole year later. An Ariana Grane collab, Bed, was released in June.
"This is the best album I've ever, ever, ever in my life created," Nicki said in an interview with Zane Lowe for Beats 1. After all that hush, we now have a title, artwork and a release date! The album is called Queen, is out August 10, and looks like this: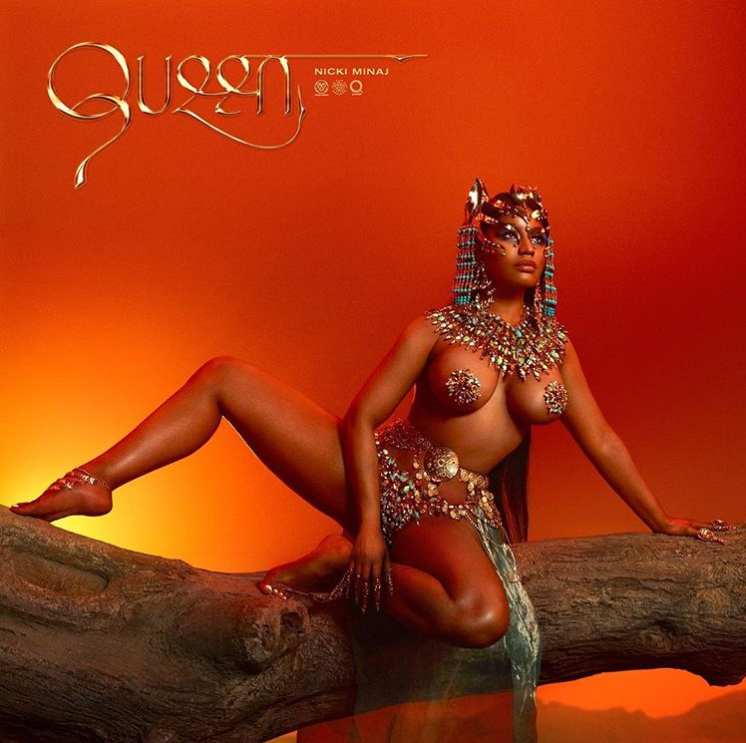 Rita Ora
Yep, Rita Ora's second studio album is actually happening, but we'll have to wait until autumn 2018 for the album, perhaps because Rita wants to finish her tour. No title yet, but along with Top 10 hits Your Song, Lonely Together, Anywhere and For You, plus recent single Girls, feat Cardi B, Bebe Rexha and Charli XCX, the album will feature songs she has worked on with hitmakers Stargate and songwriter Julia Michaels.
Your Song was written by Ed Sheeran for Rita, while Anywhere was penned by her new boyfriend Andrew Watt, who, coincidentally wrote Camila Cabello's Havana, which kept Anywhere off the Number 1 spot. D'oh. Read more on how Rita Ora pulled off her pop comeback here.
Troye Sivan
Troye kicked off the campaign for his second album in January with My My My!, his first Top 40 on the Official Singles Chart as a headline artist. Since then he's released the anthemic Bloom, which will serve as the album's title track, and a collaboration with Ariana Grande, Dance to This
Troye has confirmed the album, which features hitmakers Benny Blanco and Cashmere Cat, has been mastered and is out 31 August.
Rihanna
Reports are swirling that new Rihanna music is imminent. The star has been spotted recording in London, New York City and Paris since the release of her ANTI album in late 2016. DJ Khaled, Calvin Harris, Future, Pharrell and possibly Diplo are rumoured collaborators.
Azealia Banks
One of the most controversial figures in music, Azealia's become almost better-known for her online spats than her work – after a few false starts following breakthrough single 212, it seems she's ready to return. With forthcoming second album Fantasea II: The Second Wave, Azealia is letting the music speak for itself –  house-inspired lead single Anna Wintour and latest release Treasure Island promise an eclectic collection.
The 1975
The band have a lot to live up to after the success off 2016's I Like It When You Sleep..., but  "If you look at third albums, but frontman Matt Healy doesn't seem the least bit fazed. "OK Computer or The Queen Is Dead... that's what we need to do," he said in an interview with Apple Music. "I want people to look back and think our records were the most important pop records that a band put out in this decade." The album is apparently called Music For Cars after one of their early EPs, and previously Matt has teased the date 1 June, but whether that's for the album itself or its first single is anybody's guess.